Dynamic Dunsford United Church Newsletter – January 27, 2021
Know someone not receiving the newsletter and bulletin? They can send an email to dunsfordunitedchurch@bellnet.ca
Update from the Chair
Good news! The region meets this Friday and we expect to hear the approval of a community of faith supervisor for DUC. I will update here next week. Meanwhile, our search committee has met and is working its way through the first cumbersome steps that need to be addressed in order for our charge to be declared vacant. A big thank you to Judy S, Abi C and Carolle B for taking on this important task.
Our telephone tree has been updated with the most current information to my knowledge. Please have a look in case your call list has been changed. If you are aware of any additional changes that should be made, please let me know asap. Thanks to all who are helping out with this. It is important for us to be able to get some messages out quickly to our members especially during lockdown times when we cannot meet in person.
Thank you,
Carol
Do you have anything to share in the newsletter? Celebrations? Good news? Photos? Please send them to dunsfordunitedchurch@bellnet.ca Thank you!
From the United Church of Canada
Email: RSMerkley@united-church.ca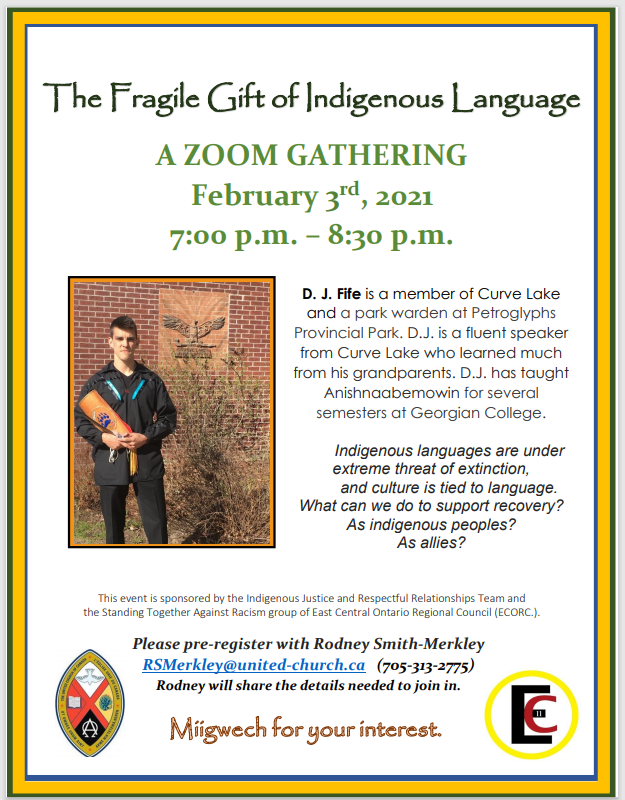 COMING SOON IN THE MARCH ISSUE OF BROADVIEW which will start arriving in mailboxes on February 1st
Uncertain Harvest
This intimate photo essay documents a family farm and its migrant workers in a growing season marked by disruptions.

Fentanyl Funerals
Overdose deaths are surging in Canada. Clergy closest to the crisis have the heartbreaking and deeply Christian task of saying goodbye.

The Church's COVID Year
Navigating the pandemic hasn't been easy, but the church may be more united than ever, writes Trisha Elliott.

The Radical Gardener
Native-plant enthusiast Lorraine Johnson believes that what we plant in our yards can change the world.
Bits from Brenda
Dunsford Community Food Bank: Contact Fay Carslake 705-341-3699 or faycarslake@hotmail.com
DUNSFORD UNITED CHURCH
Church Office Hours: Wed. 9-5
Tel: 705-793-2511
Email: dunsfordunitedchurch@bellnet.ca
Visit our new website: www.dunsfordunitedchurch.com
Worship Minister (Supply): Kevin Fitzpatrick 705-340-0973 / mk.fitzy@sympatico.ca
Music Director: Brenda Shield 1-705-748-9875 or bshield@cogeco.ca
---